DIGITAL OOH EXPERIENTIAL. 
Imagine walking down a street and having that street's personal soundtrack availalbe for listening. Now stop imagining. Parterning with the people of NYC & the music discovery app, Shazaam, Coors Light borrowed tomororrow's tech to transform Link OOH pieces into musical aggregation hubs. Simply walk up, access the free wifi, open Shazaam and voila - a playlist of that street's coldest recently-listened-to tracks is there to refresh your world. And let you know where you can find the coldest brew near you.
Don't believe me? See what the good folks over at 
AdWeek 
had to say.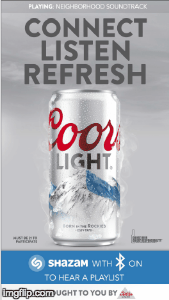 BROADCAST.
In TV & digital, Coors Light introduced the CLreFRESH hashtag and mantra introducing visual and music artists within our program roster.
Across 4 stylisitc shorts
, we pay homage to classic music videos while refreshing those who refresh the world.
Director: Daniel Portrait
Producer: Jennifer Bluford
 
AWARD-WINNING INTERACTIVE MAP.
To bring the Soundtrack experience to jukeboxes and cell-phones across the country, we gave consumers access to free music credits, our DJ collective, exclusive #CLreFRESH playlists and a refreshing tour through hip-hop's influential sounds, all at the tip of their fingers.
*Winner of 2015 MediaPost Digital OOH Awards*
MediaPost Digital OOH Best Digital Based Platform
MediaPost Digital OOH Best Restaurant/ QSR Execution 
#CLreFRESH partnered with AFROPUNK to bring consumers exclusive performances at the festival's silver stage. In return, we gave NYC a little shoutout.
After starting the tour with city-specific live shows, the team was tasked with creating web banners, email blast and digital flyers to help promote our grand finale shows.
Through the user-generated #CLreFRESH, we introduced a multicultural aesthetic and tone across all branded social channels with a new branded lens of "Urban Rockies". The #CLreFRESH social impression has already exceeeded 200M,
and counting.
To chronicle the traveling music program, my partner & I fully produced a docuseries. Centered around live city to city Soundtrack shows, each video in the series follows one Soundtrack DJ sharing how his city's sound refreshed and is still refreshing the state of hip-hop.